Men's Health
Supporting the Special Energy Needs and Requirements of Men
The needs of men are distinctive, especially as men approach midlife when there are certain organs and systems that need more focused attention. XYMOGEN's formulas for men offer natural ways to sustain energy production, support prostate health, and increase vitality.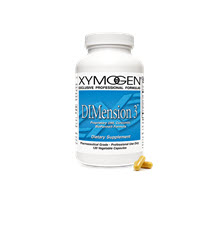 DIMension 3™
Proprietary DIM, Curcumin, BioPerine® Formula
DIMension 3™ represents a three-dimensional approach to supporting healthy estrogen metabolism. Research suggests that diindolylmethane (DIM), curcumin (from turmeric extract), and the patented black pepper extract BioPerine® support balanced estrogen metabolism.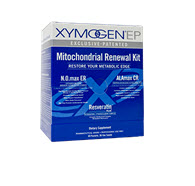 Mitochondrial Renewal Kit
Comprehensive Mitochondrial Biogenesis Formula
Restore Your Metabolic Edge
Metabolism is the wellspring of life. Mitochondria, representing a staggering 10% of body weight, are the cornerstone of energy production. Over time, mitochondria age. You lose your metabolic "edge." Your appearance, feeling of well-being, and physical capabilities progressively "dull."
Sharpen your metabolism back to a razor's edge with mitochondrial biogenesis. Three scientifically formulated, safe, and effective dietary supplements—ALAmax CR™, N.O.max ER™, and Resveratin™ Plus—seamlessly act as one entity to support the restoration of a lifetime.
This Is How Metabolism Should Look and Feel
Metabolism is the process by which your body's cells produce energy. Most of this energy is produced in mitochondria. These cellular "powerhouses" oxidize or "burn" calories, principally from glucose (blood sugar) and fat. Metabolically active cells, such as those of the brain, heart, and muscle, may contain 100s to 1,000s of mitochondria. The more mitochondria inside your cells, the more calories your body can burn. Thus, healthy mitochondria give your metabolism a calorie-burning, energy-generating edge.The process by which new mitochondria are produced inside your body's cells is known as mitochondrial biogenesis. In light of the many metabolic and protective roles played by mitochondria, it's no surprise that mitochondrial biogenesis is critical to delaying the effects of aging and age-associated declines in metabolism (e.g., increased body fat and decreased lean muscle tissue).1,2,3
Mitochondrial biogenesis is a complicated process involving more than 1,000 genes.1 Caloric restriction and aerobic exercise promote mitochondrial biogenesis. However, caloric restriction and consistent aerobic exercise regimens are difficult to maintain.2,3 Uncomplicate your life with the Mitochondrial Renewal Kit. It contains ingredients that help restore your metabolic edge by activating the critical molecular "switches" that control mitochondrial biogenesis—the very same switches activated by caloric restriction and aerobic exercise.§Embark on the restoration of your life. Restore your metabolic edge with the Mitochondrial Renewal Kit. Enjoy the look and feel of great metabolism.‡
1 López-Lluch G, Irusta PM, Navas P, et al. Exp Gerontol. 2008 Sep;43(9):813-19.
2 Lanza IR, Short DK, Short KR, et al. Diabetes. 2008 Nov;57(11):2933-42.
3 Johnston AP, De Lisio M, Parise G. Appl Physiol Nutr Metab. 2008 Feb;33(1):191-99.
§ Based on emerging experimental research.
‡ For optimal benefit, combine this product with a healthy diet and exercise regimen.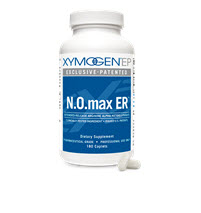 N.O.max ER™
Extended-Release Arginine Alpha-Ketoglutarate
N.O.max ER™ represents a patented, extended-release nitric oxide precursor. Scientists now refer to nitric oxide (NO) as the "foundation" of cardiovascular health. This tiny molecule is a vasodilator responsible for controlling blood flow to the entire body, which may help support healthy blood flow pressure and promote the health of the endothelium—the inside of blood vessels. With age comes diminished NO levels; that's why since 1998, when three scientists won the Nobel Prize for their discovery of NO, researchers have been working to harness its heart-healthy activity. Today, with the application of XYMOGEN's extended-release technology, that activity has been realized with N.O.max ER.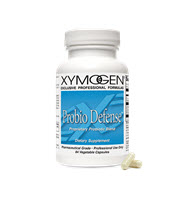 Probio Defense™
Proprietary Probiotic Blend
Probio Defense™ is a combination of probiotic bacteria that supports the immune and gastrointestinal systems. It is formulated with five billion live organisms per capsule†† and provides well-researched strains chosen for their ability to maintain viability throughout the small intestine. The three strains in Probio Defense are registered in the National Collection of Microorganism Cultures at the Institut Pasteur in France.* Selenium and zinc are present to help balance intestinal flora and maintain the body's natural immune defenses.

ProbioMax ENT / ProbioMax ENT for Kids™
Oral Probiotic for Ear, Nose and Throat Health
ProbioMax ENT™ is a chewable, strawberry-flavored probiotic that activates in the oral cavity for support of ear, nose, and throat health and to naturally promote fresh breath. As you chew, ProbioMax ENT releases the ENT-12™ strain ofStreptococcus salivarius, a beneficial bacterium that normally occurs in a healthy oral cavity. S salivarius adheres to cells in the cavity and positively affects the bacterial population and natural immune defenses therein. Once established, S salivarius ENT-12 also naturally counteracts the production of volatile sulfur compounds that can cause bad breath. Tablets are individually sealed in nitrogen-purged aluminum blister packs, which serve as protection from factors proven to compromise the stability of probiotics, such as heat, moisture, and oxygen.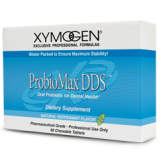 ProbioMax DDS™
Oral Probiotic for Dental Health
ProbioMax DDS™ is a chewable probiotic designed to activate in the oral cavity for support of healthy teeth and gums. As you chew the peppermint-flavored tablet, it releases the safe and powerful DDS-18™ strain of Streptococcus salivarius—a beneficial bacterium that normally occurs in a healthy oral cavity. S salivarius DDS-18 then attaches to cells in the oral cavity and colonizes, positively affecting the bacterial population therein and naturally defending the teeth and gums. ProbioMax DDS can be used as a complementary addition to your daily oral and dental health regimen.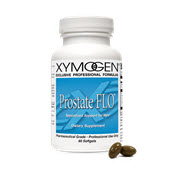 Prostate FLO™
Specialized Support for Men
Prostate FLO™ is a specialized formula designed for men to support male urinary flow, hormone metabolism, and overall prostate health. It contains a variety of synergistic, standardized herbs in addition to pumpkin seed oil, vitamin B6, and zinc. Saw palmetto berry (Serenoa repens), widely studied and used in Europe, is present as a highly concentrated, standardized extract.