Cardiovascular Health
Heart Health and Circulatory Support
From omega-3 fatty acids to coenzyme Q10 and L-carnitine, research shows that many nutrients have beneficial impacts on parameters of cardiovascular function and health. We've searched for the purest and most easily absorbed forms of these nutrients for the best possible clinical outcomes.
CoQmax CF™
Proprietary Crystal-Free CoQ10
CoQmax CF™ is XYMOGEN®'s proprietary, crystal-free, 50 mg or 100mg CoQ10 for convenient dosing. The formula offers unparalleled absorption and bioavailability. CoQmax CF has been shown in clinical trials to be over eight times more absorbable than powdered CoQ10 and more than twice as bioavailable as other oil-based or so-called "nano"-dispersed formulas on the market. CoQmax CF's proprietary multi-lipid carrier is a formulation that is unmatched for optimal utilization in the support of cardiovascular and energy-based health needs.

CoQmax Ubiquinol™
Bioactive Antioxidant Support
Ubiquinol, the bioactive form of CoQ10, supports antioxidant activity by neutralizing free radicals and toxic superoxides. It supports cytoprotection by minimizing membrane lipid peroxidation as well. The patented, lipid-stabilized form of ubiquinol in CoQmax Ubiquinol™ is present for enhanced bioavailability. Ubiquinol, representing over 90% of total body CoQ10, is efficiently converted to the energy-generating ubiquinone form as the body needs it.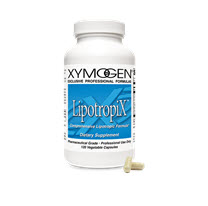 LipotropiX™
Comprehensive Lipotropic Formula
LipotropiX™ is a specialized liver support formula that provides nutrients involved in fat metabolism, including choline, taurine, and methionine. Dandelion and celandine have been selected to support bile flow and healthy liver function. Guggul extract and inositol hexanicotinate are included to support healthy blood lipid levels already within the normal range.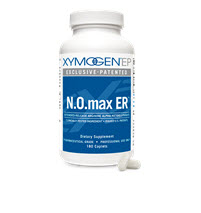 N.O.max ER™
Extended-Release Arginine Alpha-Ketoglutarate
N.O.max ER™ represents a patented, extended-release nitric oxide precursor. Scientists now refer to nitric oxide (NO) as the "foundation" of cardiovascular health. This tiny molecule is a vasodilator responsible for controlling blood flow to the entire body, which may help support healthy blood flow pressure and promote the health of the endothelium—the inside of blood vessels. With age comes diminished NO levels; that's why since 1998, when three scientists won the Nobel Prize for their discovery of NO, researchers have been working to harness its heart-healthy activity. Today, with the application of XYMOGEN®'s extended-release technology, that activity has been realized with N.O.max ER.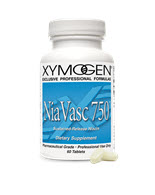 NiaVasc 750™
Sustained-Release Niacin
Niacin is one of the most studied and documented nutrients for support of lipid levels already within the normal range, especially high-density lipoprotein cholesterol (HDL-C) levels. Sustained-release niacin, as found inNiaVasc 750™, has a lesser flushing effect compared with instant-release niacin. Use of a proprietary, wax-coated technology permits release that is complete in seven to eight hours, the time that is considered ideal for a time-release form of niacin.

OmegaPure ™
Essential Fatty Acids from Cold-Water Fish
OmegaPure™ is an ultra-pure fish oil sourced from Norway. This highly concentrated natural oil provides 600mg / 780 mg / 820mg of omega-3 essential fatty acids per softgel. To assure maximum pureness and freshness, the oil is stabilized with vitamin E (as mixed tocopherols), is molecularly distilled, and is independently verified to be free of PCBs, heavy metals, and pesticides. EPA and DHA from fish oil promote cardiovascular health by supporting the maintenance of triglyceride and cholesterol levels already within the normal range, and by supporting healthy platelet aggregation. Fish oil has also been shown to support joint tissue health and healthy brain and nervous system function.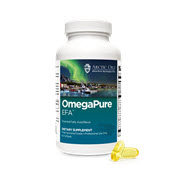 OmegaPure EFA™
Essential Fatty Acid Blend

OmegaPure EFA™ provides a blend of omega-3 (alpha-linolenic acid) and omega-6 (linoleic acid) essential fatty acids, as well as omega-9 (oleic acid) fatty acids. Flaxseed oil, borage oil, and XYMOGEN®'s exclusive Arctic Oils® ultra-pure fish oil provide this nature-reflective balance of fatty acids that support healthy eicosanoid metabolism and cardiovascular health.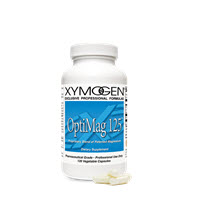 OptiMag 125™
Proprietary Blend of Patented Magnesium
Magnesium, the fourth most abundant mineral in the human body, plays a role in over 300 metabolic processes. It participates in the development and maintenance of bones and teeth; the metabolism of carbohydrates, blood glucose, fats, and proteins; the formation of cells and tissues; and the maintenance of muscle function, including cardiac muscle. OptiMag 125™ contains Albion®'s TRAACS® magnesium lysinate glycinate (mineral amino acid chelate) and Albion's chelated dimagnesium malate—both formulated for enhanced absorption. Malic acid (from di-magnesium malate) supports energy production and lactic acid clearance via the Krebs cycle. Malic acid may also support antioxidant systems by enhancing glutathione and antioxidant enzymes.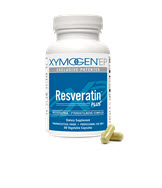 Resveratin™ PLUS
Resveratrol/Pterostilbene Complex
Resveratin™ Plus provides a complete bioflavonoid complex with resveratrol, quercetin, and pterostilbene. These three antioxidants work together synergistically. Pterostilbene, a new focus of scientific research, is methylated resveratrol, a bio-optimized form that complements resveratrol and quercetin. These compounds are being extensively studied in the areas of cardiovascular health and aging.