Essential Fatty Acids
Optimizing Cell Membrane Composition
From neurological development to cardiovascular benefits. the health-bearing of omega-3 fatty acid supplementation continue to expand. All of XYMOGEN®'s omega-3 oils are derived from the purest sources, and we carry vegetarian as well as fish-derived oils.
OmegaPure ™
Essential Fatty Acids from Cold-Water Fish
OmegaPure™ is an ultra-pure fish oil sourced from Norway. This highly concentrated natural oil provides 600mg / 780 mg / 820mg of omega-3 essential fatty acids per softgel. To assure maximum pureness and freshness, the oil is stabilized with vitamin E (as mixed tocopherols), is molecularly distilled, and is independently verified to be free of PCBs, heavy metals, and pesticides. EPA and DHA from fish oil promote cardiovascular health by supporting the maintenance of triglyceride and cholesterol levels already within the normal range, and by supporting healthy platelet aggregation. Fish oil has also been shown to support joint tissue health and healthy brain and nervous system function.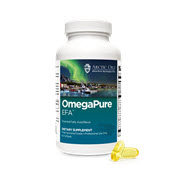 OmegaPure EFA™
Essential Fatty Acid Blend
OmegaPure EFA™ provides a blend of omega-3 (alpha-linolenic acid) and omega-6 (linoleic acid) essential fatty acids, as well as omega-9 (oleic acid) fatty acids. Flaxseed oil, borage oil, and XYMOGEN®'s exclusive Arctic Oils® ultra-pure fish oil provide this nature-reflective balance of fatty acids that support healthy eicosanoid metabolism and cardiovascular health.