Body Composition
Stimulant-Free Body Composition Aids for Better Overall Health
Achieving and maintaining an ideal body composition can be challenging. The right nutritional support can make a world of difference to a successful program. XYMOGEN®'s Weight Management formulas help address protein intake, stress adaptation, glucose metabolism, and the many other factors that are associated with increased body fat.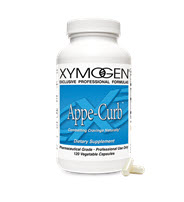 Appe-Curb™
Combatting Cravings Naturally
Appe-Curb™ contains key amino acids to support the biosynthesis of neurotransmitters involved in appetite control, carbohydrate or fat cravings, and mood. Chromium is present to support healthy glucose metabolism and support food intake regulation.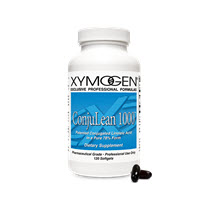 ConjuLean 1000™
Patented Conjugated Linoleic Acid in a Pure 78% Form
ConjuLean 1000™ is a patented form of conjugated linoleic acid (CLA). The yield of CLA is at least 78%, providing 1.56 g of pure CLA per serving. Animal and human studies suggest that CLA may reduce body fat and help maintain healthy body composition and lean muscle mass.
ConjuLean 1000 is guaranteed to provide the highest levels of pure CLA and contains those isomers that are most commonly associated with positive health benefits. While CLA in the diet is found primarily in dairy products and beef fat, ConjuLean 1000 is derived from pure, non-GMO safflower oil.

FIT Food™ Vegan
Vegan Protein Shake Mix
FIT Food™ Vegan, is an easy-to-mix functional food for vegans, individuals sensitive or allergic to soy and/or dairy, or anyone seeking an alternative source of quality protein. FIT Food Vegan features VegaPro™, an all-natural rice and pea protein blend.
The pea protein in FIT Food Vegan is rich in lysine and arginine. Lysine is of particular interest in weight control because it helps maintain lean body mass. Arginine is essential to weight control for its ability to help increase muscle mass and reduce body fat. Pea protein has the highest lysine concentration (7.2%) of all vegetable-based proteins and the highest arginine concentration (8.7%) among all commercially available proteins.*
Easy-to-digest VegaPro features a full complement of amino acids, including branched-chain amino acids.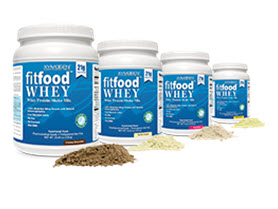 Fit Food™ Whey
Whey Protein Shake Mix
FIT Food™ Whey represents an extraordinary breakthrough in body composition/weight management functional food formulas.
Our medical board of advisors' primary objective in researching and developing FIT Food Whey was to find a pure source of quality whey protein that is free of genetically-engineered hormones (rBST and rBGH) which, though banned in other countries, are used in the United States dairy industry. There are growing concerns regarding the effects of these hormones, especially in early puberty.
After a thorough review, our researchers determined that the stringent standards imposed by the New Zealand Ministry of Agriculture and Forestry (MAF) upon New Zealand dairy farmers results in the purest and most bioactive whey protein available. In addition to prohibiting the use of synthetic hormones in New Zealand's dairy industry, MAF-mandated feeding, climate, and calf-birthing practices further contribute to the superior quality of New Zealand's whey protein. Although importing New Zealand whey protein into the United States is more costly, our board of advisors recommended that FIT Food Whey must contain 100% pure New Zealand whey protein.